Print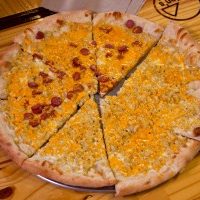 Really BAD for You Pizza
An interesting and totally unhealthy twist on Pizza. Best part it actually tastes good. You can make this slightly more health conscious by using low fat, low sodium cheese and organic mac n' cheese and organic all beef hot dogs.
2

tubes of prepared crescent dough

1

box of mac n' cheese dinner

4

hot dogs

thawed...but not under your armpits as you have to share

1

tin pizza sauce

1

cup

grated cheese of your choice

Oregano and other spices of your choice to taste.
Prepare mac n' cheese according to package instructions set aside to cool slightly.

Open crescent dough tubes and roll dough out by hand side by side on a large cookie sheet.

Pinch seam together and lightly pat down to remove air bubbles.

Open tin of pizza sauce and add to dough.. spread around gently with a spoon. Add spices.

Spoon mac n' cheese onto dough being careful to not make it too thick.

Slice hot dogs however you please and sprinkle them over mac n' cheese mixture.

top with grated cheese of your choice and bake in oven at 450f for 10 minutes.
This is good stuff but don't over do it. You can add any other toppings you wish to this delicious concoction. My secret ingredient for making ANY mac n' cheese better: Sriracha! It livens up the cheese sauce and adds a little heat.
This recipe was first invented way back in 1976 in my grade 8 home economics class. We had to come up with something from ingredients we had already used in our class over the year for our final test mark. Myself and two other girls invented this tasty pizza by combining our multitudes of experience making English Muffin Pizzas (muffins, hot dogs, cheese and tinned sauce) , Pigs in a Blanket (hot dogs wrapped in crescent dough) and of course mac n' cheese out of a box which was the boiling water 101 part of our cooking skills. No one else was as creative as we were.