Slow Cooker Pulled Pork
I love Louisiana and spend as much time there as I can. Not as much time as I would like to because of commitments here at home, but it is my go to place to relax, hang out with my friends and enjoy life.  Being a chef and a foodie one can't help picking up tricks and tips from some of the best chefs and home cooks who feed me while I am there. While BBQ is common in the south, Pulled Pork tends to have it's roots in states further east. Traditionally it was either a whole roasted pig or cheaper cuts like Pork Butt. For this recipe you can use any inexpensive cut you can find. Seeing many folks prefer a lean pork roast which tends to be on the dry side I've adjusted this recipe in the slow cooker by the addition of a little more liquid introduced through the cooking down of apples and maple syrup which bring a whole other level of flavour. As always I am fascinated not only with pulled pork's tasty flavours but the history.
The term "Pork Butt" goes back to colonial days when the lesser cuts of meat (pork shoulder being one of them) was transported in casks and barrels that were referred to as 'butts'. Much of cargo going in and out of the US came through Boston, so Boston became synonymous with 'pork butts' – thus the Boston butt. 

Pork shoulder is a lesser cut off the pig as it is tougher meat and tends to be fatty. BBQ is one of the best ways to handle this cut through hours of slow cooking that tenderize the meat and allow the fat to break down maintaining the moisture.  The popularity of the BBQ in America finds it's roots in the old plantations.

BBQ's were a social event that often lasted a couple of days. Slaves and servants were in charge of the slaughter of a hog late at night, digging the trench for cooking, maintaining the fire and eventually the embers on which the animal was cooked. It was a tedious chore standing there for hours: up to 24 in some cases, while the pig slowly cooked and picked up the smoky flavour.

The landowners would keep the better cuts for themselves, the ribs and the loins (meat on the 'higher' side of the hog), and the servants and slaves were given the belly and lesser cuts of meat (on the 'lower' side of the hog). Thus the saying, 'living high on the hog'.  (revised from Urban-Dishes Explained)
Slow Cooker Pulled Pork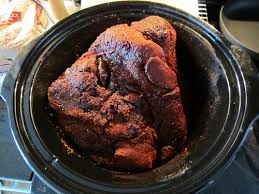 A delicious slow cooker take on Pulled Pork.
Ingredients
1

tblsp oil

1

pound

pork shoulder roast

6

tblsp Dry Cajun Spice Rub

I use Slap Yer Mama

1/4

cup

maple syrup

2

tblsp Apple Cider Vinegar

1/4

apple juice or cider

1/4

cup

light brown sugar

1

extra large onion

chopped

2

cloves

large garlic

crushed

1/4

cup

water

3

large apples

Granny Smith work best, cored and quartered
Instructions
Pour the vegetable oil into the bottom of a slow cooker allow to heat.

Rub pork with cider vinegar let stand while mixing together Cajun Spice rub and brown sugar.

Brush pork with maple syrup then roll in Cajun Spice Dry rub mixture.

Place the pork roast into the slow cooker; pour in the water, add garlic, onion and apples.

Cover and cook on High, checking liquid level after several hours and adding additional apple juice when necessary.

Cook until the roast shreds easily with a fork, 5 to 6 hours.

Remove the roast from the slow cooker, and shred the meat using two forks.

Remove apples and onions break down and add to pork, blend together.
Notes
Pulled pork may be served on toasted buns or with sides of your choice.
This recipe yields a moist and delicious traditional dry rubbed style pork. If you like yours with sauce, top with a favourite BBQ flavour of your choosing.
---